16/08: Johnston's Creek Parklands Master Plan
The summary of
ITEM 8. JOHNSTONS CREEK PARKLANDS MASTER PLAN – ADOPTION FILE NO: S064540
states:
The Master Plan envisages a series of high quality, complementary parkland spaces,
building on the existing and well-loved foreshore parks. The Master Plan provides a
clear direction for the use and configuration of the new parkland, and strategies to link
the parks together to create a continuous 19 hectares of parkland.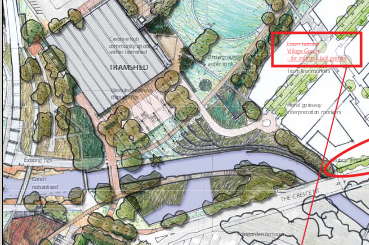 Johnston Creek Parklands Masterplan to go to City of Sydney Environment Committee 2pm 19 August 2013 with a view to recommendation to full council. Item 8 on Agenda
http://www.cityofsydney.nsw.gov.au/council/about-council/meetings/calendar-and-business-papers/2013/august/environment-committee
However, the detail of the plan for
Federal Park
is sadly inconsistent with this. There is a major road that dissects the park and breaks the continuous shared footpath and cycleway that follows the creek from Wigram Road to its mouth at Rozelle Bay.
The plan and amenity of the parklands (cricket pitch) would be significantly improved by eliminating the roadway across Johnston's Creek.
And if necessary providing limited vehicle access from the Roundabout to the Crescent just East of the Creek/Canal.
Annandale Residents have fought for this parkland for over a century. See history at
06/08: Federal Park, Annandale (though sometimes identified as Glebe)