26/11: Ms Fischer launches New Theatre's 2014 Program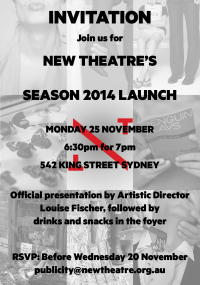 After rising to the dare to climb the heights of Tom Bannerman's set of Dying for IT,
New Theatre
President Rosanne Mcnamara
introduced
Louise Fischer, the Artistic Director
.
After ackowledging the efforts of the team of Script Readers,Fischer interviewed each of the directors in the 2014 Program, except one who had a prior commitment at NIDA.
Alice Livingston
who will direct
Privates on Parade
for
Mardis Gras
, is looking forward to the challenge of her first singing and dancing production.
The next director, also a woman, will bring
To kill a Mocking bird
to the New Theatre.
Mcnamara
will have her relatives in mind, as she portrays the story of a Viennese Musician bring Schubert's Lieder to Darwin in
Maestro
.
Fischer and three other female directors will tackle
Why Torture is Wrong and the People That Love Them
,
Book of Days
,
Wolf Lullaby
and
Harvest
. Just leaving room for one last production - possibly directed by a bloke!
Rosanne Macnamara
then thanked the numerous people who keep the
New Theatre
going including Gemma for new look postcards and website for 2014.
Dying for It
,
New Theatre's
last production for 2013 runs until 21 December.
More at
newtheatre.org.au