27/01: Liebentritt/ Cumberland Pottery & Tile Works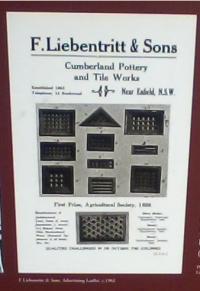 At the entrance to Chullora Marketplace there is interpretive signage about Leibentritt's patent liquid fuel boiler.
In 1857, Paul Liebentritt travelled with his wife and four sons from Germany to Australia.
Liebentritt started a small pottery virtually opposite the Lion Tile Works on the Liverpool Road (Hume Highway) near Enfield.
In 1863 he purchased approximately 30 acres and established Cumberland Pottery and Tile Works. The area was known as "Barks Hut Estate", later "Druitt Town", then "near Enfield" and today Chullora.
Read more:
Liebentritt/ Cumberland Pottery & Tile Works archive (Powerhouse Museum, http://from.ph/133214 viewed 27 January 2014