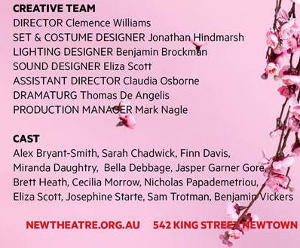 When you take your elderly parents to the theatre, you want it to be good.
The New Theatre's production of David Mamet's adaptation of Checkov's The Cherry Orchard was better than good.
According to the profiles, in the program, the production drew on the skills and talent of alumni from the National Institute of Dramatic Arts, the Western Australian Academy of Performing Arts, the Australia, the Actors Centre Australia and Australian Television.
Director Clemence Williams wrote she was seeking a Synergy between the music (written and performed by Eliza Scott) and the Play.
"Cherry Orchard was just great, very uplifting" - Florinda da Cruz
David Mamet's adaptation of
The Cherry Orchard by Anton Chekov
until 28 MAY at New Theatre
http://newtheatre.org.au/season-2016/the-cherry-orchard/